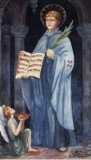 He was born around 1487. We have no information about place of birth and about his family. Specialized in theology in 1531 from the University of Cambridge, and especially well versed in Latin, in Greek and Hebrew, he had at heart the continuous investigation in theological studies and the direct study of Sacred Scripture in the original languages. During his studies he developed a vocation to religious life and entered the abbey of Brigidini to Zion, founded in 1415 by King Henry V in Isleorth: embraced the Bridgettine rule, in austerity and prayer had personal experience of God and acquired wisdom that made ??him famous preacher and spiritual adviser.
Shortly before 20 April 1535 he was arrested for refusing, along with other Brigidini, to recognize the marriage of Henry VIII to Anne Boleyn, despite the pressures and threats, persevered in faithfulness to the Pope and in no way accept the king as supreme head Church of England.
On May 4, 1535, preceded in the execution by three Carthusians at the last moment, after having urged the people to pray for the repentance of the king, was brutally murdered; was hanged, but they cut the rope before he lost consciousness and was dragged on stage and stripped naked, so his body was opened to throw the guts and heart in the fire and was finally beheaded.


PRAYER TO ST RICHARD REYNOLDS

Almighty and eternal God, who have given the Holy Martyr Richard strength to keep until the last moment
fidelity to the Vicar of Christ, grant us, by his intercession, to perseve in the doctrine of the Apostles in communion with the Pope.
Through Christ our Lord.
Amen.