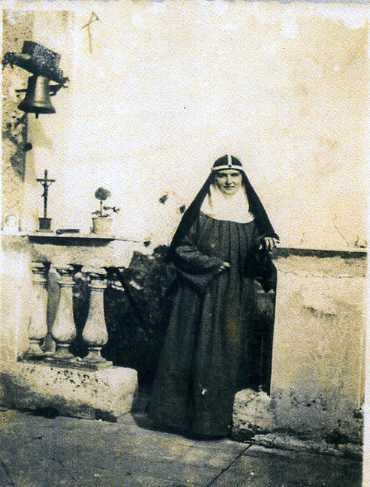 Servant of God
SISTER M. MADDALENA MOCCIA, O.SS.S.
Sister M. Maddalena Moccia was born in Naples on 1st August 1898 of wealthy parents, which unfortunately cared very little about the religious education of their daughters. In 1913 she entered the College of the Ursuline Sisters in Rome in Via Nomentana: there she so strongly deepened the experience of her faith that she even matured the idea of embracing the religious life.
What she wrote in November 1915, after the spiritual retreat at the Ursulines' in Rome, is very significant: "Before entering this Holy House of God in the company of these holy and generous brides of Christ, I had never imagined what a retreat could be. Now, for two times have I experienced what a retreat could be. What a delight, what a joy! Never in the world had I heard and met my friend Jesus as the Ursulines now have made Him known to me. Never had I worshiped and loved Him as I now do spontaneously, without any need of encouragement. I often hear His voice, and He is prompt to take possession of my soul through his grace".
She entered the Bridgettine Community in Via delle Isole 34 in Rome, for which she felt greatly attracted. Here she was accepted as a postulant on 29th December 1920, taking the name of Sister M. Maddalena of Jesus Crucified. On the 23rd July 1921 she took the religious habit, but in September of that same year, there appeared the first symptoms of a disease that would bring her to her death: pulmonary tuberculosis! On 20th February 1922 she took the perpetual vows, after only seven months in the novitiate, and on 20th April 1922 she passed away in Rome in odour of sanctity. She had said to the Blessed Mother Elizabeth: "I will be your Angel in heaven".


Prayer for the Beatification of the Servant of God Sister M. Maddalena Moccia, O.SS.S (1898-1922)
O Father most holy, You have marked with suffering the young life of Your Servant Maria Maddalena and have drawn her close to your heart in the silent adoration of the Heavenly Bread; grant that we may venerate her memory, imitate her example and benefit of her intercession. Glory be… 3 times


In the event of graces granted through the intercession of the Servant of God you are kindly asked to inform:
Motherhouse - House of Santa Brigida
Piazza Farnese 96 - 00186, Roma
Tel. 06 68892596
E-mail: econ.09@brigidine.org